Recently, Michelle and I traveled to L.A. to visit my buddy Kurt Yaeger: a rising star from the film Dolphin Tale and FX's hit show Sons of Anarchy. Kurt agreed to wear and promote our latest t-shirt "Good Stopped Playing Nice" to support DG's humanitarian work.
The beginning of the journey was a bit tumultuous. It took some time getting out of San Francisco and my stomach was churning from the grilled chicken I ate for lunch. After two runs to the restroom within an hour, I informed Michelle that we may have hit a snag. Wow, the timing. I hadn't felt like this bad since I had food poisoning ten years ago and now its doppelganger was making an appearance. But I sucked it up and pushed forward using the power of The Secret/Law of Attraction repeating the words "You are fine. You are fine. You are in harmony with your stomach. Your stomach is a sea of tranquility". After popping a few Tums, the pain soon subsided and we were on our way. YES! Not food poisoning!
MALIBU
Thanks to my cousin Lori, who put us up in her pad, we woke up to the most beautiful view I had seen in awhile. "So this is how celebs wake up. I could get used to this. I could give Reese a call down the street and grab some Starbucks. That wouldn't be so bad. Yeah, I could handle that. But for now, we got to jet to Studio City to meet with my other Cause Celeb, Kurt Yaeger."
KURT YAEGER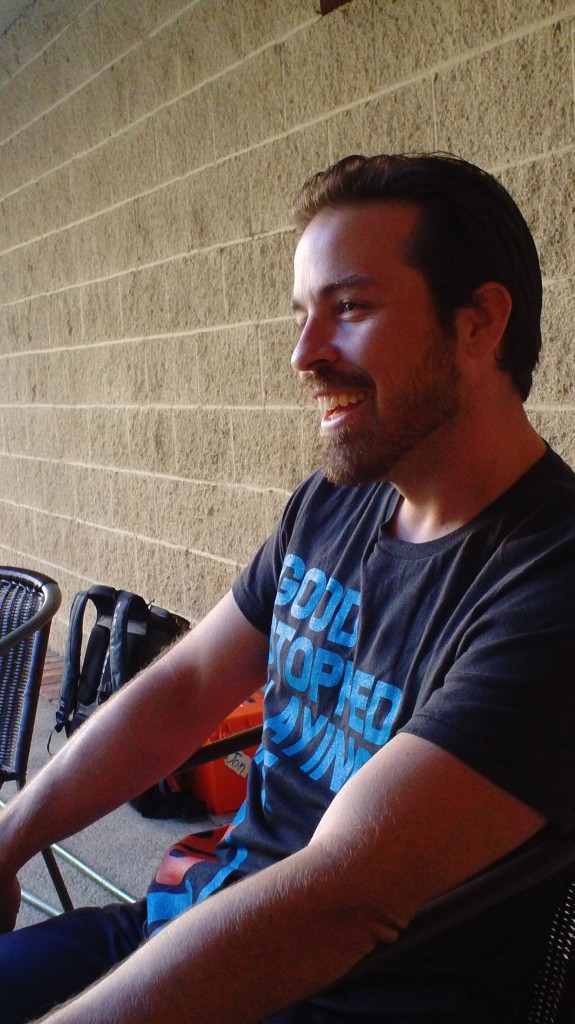 It had been been a while since I had seen my buddy Kurt. Mind you, I've always known Kurt as a passionate and opinionated fella. One of the first things I noticed in the conversation with him was that he was much gentler (sorry to ruin the hard core rep for all you die hard Sons fans). L.A. didn't get to my boy. There was no attitude. He was just as I had last seen him. I mentioned this to him and he replied "That's what a Canadian girl will do to you. I'm really a big teddy bear."
The interview was ideal. It may have been a sound guys worst nightmare marred with a symphony of planes, gardeners and garage doors, but in the company of friends and laughter, it felt effortless. Kurt discussed a variety of issues from his personal journey as an artist/amputee to his views on being a Do-Gooder. It didn't hurt that he loved the shirt! As the interview with Kurt will air on our new revamped DG site on October 3, I won't disclose the details except for a memorable quote Kurt used from Winston Churchill: "Success is the ability to go from one failure to another with no loss of enthusiasm." I hope our company operates with such wisdom.
Kurt, thank you so much for supporting Do-Gooder in taking on the bullies of the world. Yes, sometimes, as Kurt said, "Good has to carry a bat."